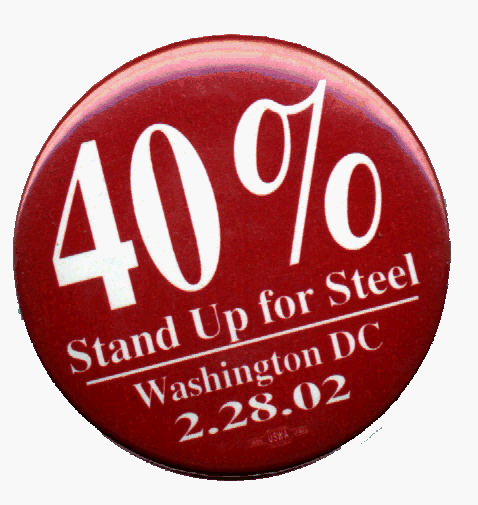 40% for four years
Contact the White House to urge 40% Section 201 tariffs:
Phone: 202 - 456 - 1111
Fax:202 - 456 - 2461
Email:president@whitehouse.gov or vice.president@whitehouse.gov

30,000 Rallied in Washington DC on Feb 28!

The call came out for support of the rally in Washington D.C. from the International Steelworkers Union and in the time frame of just three weeks time over 30,000 Steelworkers members and other organized labor Unions from across the country rallied with solidarity in Washington D.C.

USWA Local 286 Lincoln, Nebraska and USWA Local 307 Topeka, Kansas sent 20 members from each Local to travel to Washington D.C. by bus to show our solidarity in Stand Up For Steel.

Local 286 left Lincoln, NE at 5:30 p.m. Tuesday the 26th of February and went to Topeka, KS to pickup our Brothers and Sisters from Local 307 and off to Washington D.C.from there. We arrived Wednesday the 27th of February in Frederick, Maryland at 8:00 p.m. and spent the night. Awaking at 7:00 am Thursday and leaving at 9:00 a.m. for the hour and a half trip into Washington D. C. to start our day at the RFK Stadium and then on to the rally in front of the White house. Leaving Washington D.C. that afternoon after the rally Thursday February 28th, we arrived back in Lincoln Friday night at 11:30 p.m.

On behalf of myself and the other 39 members that was fortunate to have their names drawn out of a hat to be selected to go on this rally to Washington D.C. I would like to say thank you to our USWA Local President and Vice President in Lincoln, Nebraska for taking care of the organization of the trip and their concerns. I would like to say to the members of both our Locals thank you. I would like to say to my Brothers and Sisters that went on this trip thank you for the opportunity I had to get to know all of you just a little bit better and really know what the meaning of SOLIDARITY means. I had a wonderful time and I will always remember the Stand Up For Steel Rally in Washington D.C.

I heard after the trip home from the rally that we were on the bus for 27 hours on the way down and 31 hours on the way home. Yes the trip was long, but with the solidarity that was shown as 30,000 Union members came together from all over the country at the rally in Washington D.C. that afternoon I would do it again anytime and on any bus. If we don't sacrifice something of our selves to get something for others then we don't really know the meaning of having that something at all, remember someone some where has sacrificed something to give us what benefits and wages that we have today.

Thank you,

Andy Grow, Art Godfrey, Carl Althouse, Sandra Schaff, Dave Mueller, Dennis Schweitzer, Ron Voboril,
Jason Pflughopt, Bill Rezac, Doug Prohaska, Jerry Trouba, Terri Hawthorne, Wayne Fiedler, Mo Anker,
Larry Sims, Mike Bohmont, Phil Snook, Brett Harris, Judy Joslin
and the other 20 members from Local 307


STAND UP FOR STEEL RALLY, 40% FOR 4 YEARS
Mr President can you hear us !

THE PRESIDENT MAKES HIS DECISION
Union hails outcome as "victory for grassroots activism"


To view pictures taken at the rally by local 286 members just click here on the link.

To read reports from the International Steelworkers web site click here.

Carl Althouse a Local 286 member makes head lines with the AFL-CIO web site click here.

Washington Post Bush Faces Tough Choices on Steel Imports.


Contact: Gary Hubbard (202) 256-8125, or Marco Trbovich (412) 418-7513
Thousands from America's Steel Communities
Rally at the White House, Imploring the President
to Impose 40% Tariffs on Imported Steel
Pittsburgh -- A crowd of nearly 30,000 from Steel communities throughout America's industrial heartland rallied outside the White House today, loudly urging President Bush to implement the International Trade Commission's (ITC) recommendation of 40% tariffs on imported steel products.

Tens of thousands of United Steelworkers of America (USWA) members -- many from among the more than 46,000 who have already lost their jobs as a result of 31 steel bankruptcies and 17 liquidations during the current crisis -- were joined in a massive show of support by aging retirees and surviving steelworker spouses, AFL-CIO leaders, community advocates and federal, state and municipal leaders, largely from Indiana, Ohio, Pennsylvania, West Virginia and Maryland -- states the Bush Administration recognizes as crucial to the 2002 Congressional elections as well as a presidential reelection bid.

"President Bush has a choice to make and he has the power to make it," USWA President Leo W. Gerard told the cheering throng. "He can face up to the facts and impose the 40% tariffs that the ITC has documented are necessary to stop the devastation being done to American steel.

"Or he can turn his back on the facts and on the 200,000 steelworkers and 600,000 steelworker retirees and their communities by offering up half-baked tariffs that will be nothing short of a blueprint for nation's abroad to continue violating our laws at the expense of American steelworkers who gave their sweat, their blood and even their lives to make this country as strong as steel."

As the crow repeatedly chanted, "40% for four years," Gerard asked, "Where's the justice in letting importers who patently break our trade laws brutally break the hopes and dreams of American families? Where's the justice in trading away the health care benefits of retirees to placate those who are decimating American steel mills and steel communities?

"Why should we settle for less than 40%," he said, "when unfair trade over the past three decades has wiped out 56-million tons of American steelmaking capacity and more than a quarter million steelworker jobs?

"Twenty-two million tons have been lost since this President and other members of his Administration said they would level the playing field. How much longer will they allow themselves to keep being bullied by the illegal dumpers and foreign competitors?

"We don't have a trade policy," Gerard insisted. "We've got an employment policy for illegal foreign dumpers. That's not competition, and it's sure as hell not 'free trade.' That's industrial suicide -- and we're not about to let this nation commit industrial suicide so other nations can keep exporting their unemployment to the United States."

The rally today – one of the larger in recent years -- was a culmination of more than 40 rallies and community meetings attended by more than 25,000 citizens over the past three weeks in the nation's industrial heartland. Participants streamed into the capital from as far away as Tyler, Texas and the iron range of northern Minnesota, traveling by auto and on more than 275 buses. A dozen high school bands from steel communities even made the trek.

The unusually large rally is expected to bolster those within the Administration who are advocating strong tariff remedies on the grounds that taking such action offers the President a rare opportunity to satisfy the concerns of critical voters by implementing actions that have been thoroughly documented and advocated by an independent, bipartisan agency such as the ITC.

In anticipation of the rally, the legislatures of Illinois, Indiana, Ohio, Pennsylvania, Maryland, West Virginia, Utah and Alabama, as well as many cities and municipalities, have already passed resolutions -- many of them unanimously -- supporting the maximum tariff relief.
Contact: Gary Hubbard (202) 256-8125, or Marco Trbovich (412) 418-7513
USWA Says President's Tariff Decision Sets
Stage For Aiding Victims Of Unfair Trade

Union hails outcome as "victory for grassroots activism"; says it creates
"a moral imperative" for Congress to protect health care benefits of retirees

Pittsburgh - The United Steelworkers of America (USWA) said today that President Bush's decision to impose significant tariffs on many steel imports for three years "raises our hopes that America's steel industry can be saved and sets the stage for legislation necessary to protect the health care benefits of 600,000 steelworker retirees whose benefits remain at risk."

"The grassroots activism of literally tens of thousands of citizens from steel communities throughout the nation's industrial heartland," said USWA President Leo W. Gerard, "made it crystal clear that the day is done when American workers will stand for being victimized by violations of our trade laws. We congratulate President Bush for hearing that urgent message and on taking another crucial step toward leveling the playing field in steel trade."

"It's not as comprehensive as we had hoped," he said, "but it certainly is the first time we've seen some light at the end of a long dark tunnel."

Gerard added that "the bold action taken by the President, as well as the Senate Finance Committee, in initiating a 201 investigation was the first step in a three stage process. With broad bipartisan support from the Congressional Steel Caucus, the President has now taken this historic step, which leaves to Congress the crucial challenge of passing legislation that secures the health care benefits of hundreds of thousands of retirees."

In addition to acknowledging the President's leadership, the union cited the critical support of Steel Caucus Senators Jay Rockefeller (D-WV) and Arlen Specter (R-PA); Congressmen Peter J. Visclosky (D-IN) and Phil English (R-PA), as well as House Minority Leader Richard Gephardt and the more than 220 House members who supported HR808, legislation advanced by the Steelworkers to join the debate over import restraints and the security of retiree health care benefits.

Gerard also hailed the instrumental role Senator Paul Wellstone played in preventing the iron ore and coking industries from being devastated by unrestrained levels of imports of semi finished steel.

Gerard was especially pleased, he said, that Canada was one of the nation's exempted from the tariff, a position that the USWA had forcefully advanced, both during the International Trade Commission (ITC) hearings and throughout President Bush's deliberations.

Most importantly, Gerard said, "the President's action creates a moral imperative for Congress to take the final crucial step of restoring the health care benefits of tens of thousands of steelworker retirees and their surviving spouses. They're the real victims of unfair trade, and they're being victimized at the most vulnerable time in their lives.

"The last thing this country needs right now," he said, " is to have hundreds of thousands more retirees subjected to choosing between paying for food and the skyrocketing cost of health care."

The current steel crisis, which began late in 1997, has forced 31 American steel companies into bankruptcy, 17 of which have shut down completely. A portion of steelworker retirees' pensions resulting from shutdowns are guaranteed by the federal government's Pension Benefit Guarantee Corporation (PBGC), but the health care benefits of retirees and their surviving spouses are completely wiped out when a company liquidates.

For example, the health care benefits of some 85,000 LTV retirees, their surviving spouses and dependents will stop being paid after March 31. Even when the assets of a liquidated company are purchased, as is the case with LTV, the health care liabilities, or so-called "legacy costs," are usually not assumed by the purchasing company.

Most steelworker retirees have already been paying from 25 to 40 percent of the cost of their modest health care coverage, despite limited pensions in many instances. In fact, a majority of surviving spouses average less than $100 a month in pensions, far less than what it will cost them to purchase insurance coverage if the company their spouses worked for shuts down.

"These retirees and surviving spouses, many of whom were forced into retirement prematurely by the downsizing of the Eighties," Gerard said, "are being doubly jeopardized now by the unfair trading practices that threaten to destroy the American steel industry.

"These are the working citizens who built this country into the great and powerful nation that it is today," he added, "and we will be coming to Congress very soon with legislation that prevents their health and retirement security from being sacrificed on the altar of unfair trade.